As has become customary, I am coming here to discuss the most recent episode of Blackish. By now, you know that I love Bow and Dre and I have been super bummed about the state of their marriage. You know I have been rooting as hard for them as Tyra was rooting for Tiffany Richardson.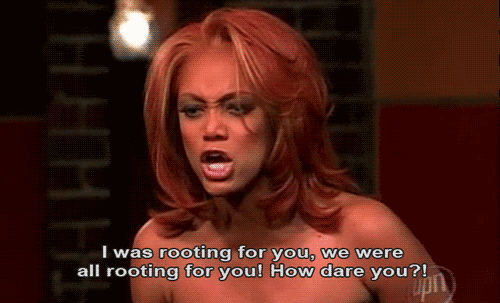 What this last episode has shown us is what I started this series of recaps with. You have to remember the why of why you fell in love. Their counselor told them that their marriage was like Thanksgiving dinner. The turkey (the marriage) is the centerpiece. You  give all of your attention to the turkey in the beginning with seasoning it just right and then you place it in the oven to cook and go off to prepare the sides, which takes your attention off of the turkey for hours. Your attention shifts to the sides that need to be made to make dinner complete – collard greens, macaroni and cheese, yams, rice, dressing etc. Side note: I just made myself hungry! These sides in the marriage are: children, the home, parents, jobs, etc. Things that take our attention off of the marriage and take center stage for the moment; remember I said moment.
Unfortunately, by the time you've realized that you haven't checked on the turkey for a while, it's usually either too late, or just in time to stop it from drying out. No one likes dry turkey. Yuck! Like the turkey, you have to remember to check in on your spouse. You have to remember to keep attention on the centerpiece of the family; the root; the marriage.
How do you do this? In my marriage, we do this by making sure we have date nights. When we felt the divide starting to creep in (Blackish: The Real Struggle of Marriage)  and we found ourselves asking "Is Space Just a Pause Before Divorce?", we decided to make a concerted effort to reconnect with one another. We are competitive people by nature. For those who have been around since the beginning of our relationship, one of the things they used to tell us was that we had to stop competing with one another. We did the opposite. We took that advice and threw it away. We competed, and we competed hard.
We created a competition out of planning dates. For one year, we went on dates twice a month. We each were tasked with planning one of the dates each month. The date was a surprise to the other and the only details they were provided were what to wear and when to be ready. It was the most fun times of our marriage. We began reconnecting after 10 years of being together, 5 years of marriage, and 3 children later. We did things we had always talked about doing but never made the time to do. We made each other the priority.
I remember I planned a date to do only things my husband wanted to do. He loves playing golf, so I set up a tee time at the ungodly hour of 8am on a Saturday, followed by lunch at a restaurant he wanted to try, and ended the date at a hookah spot that he had been raving about. He had a blast. Another date that I planned that absolutely stands out to me is when I booked a room at a hotel for the night, got a baby sitter to watch all of our children, and bought tickets to an old school R & B concert featuring one of each of our favorite singers – Babyface and Anthony Hamilton, among others. I also took him to one of the best seafood restaurants in town since at the time he was pescatarian. He was so grateful for those dates.
And while his dates were equally impressive and well thought out, from redoing one of our first dates to Dave and Busters, doing a team building exercise with the great excape (that's how the company spelled it) room, my most favorite date was the most thoughtful and impromptu date ever. He couldn't find a babysitter for that night, so he decided to do a date at home. We had planned to go out to celebrate the New Year after going to watch night service. Then, he said, let's just do something here, a new tradition, at least this year. He bathed and fed our children, then we prayed with them and prepared dessert for me. He then sent them to bed and told me to meet him outside. He had set up a chrome-cast to play against the back wall of our house. He had our patio furniture set up in a position for us to snuggle up with each other and watch the movie. I cannot even tell you the movie we watched, but I know that I enjoyed watching it with him. Under the night sky, stars shinning bright, with the man I loved, wrapped up in blankets, just spending time with him. He was speaking my love language and I heard every word.
Years later, we still do date nights but we have added couples date nights. We have linked up with several couples in our town and the wives take turns planning a group date each month. Having a network of married couples our age has been a blessing to our marriage. The men have been friends for years and they have a great time when they get together and because we all love each other and are all friends, we have a ball. We do things from active dates to sit down dinners and game nights. The only rule is we have fun. Getting together like this strengthens the bonds of all of our marriages. It helps us remember the why. It helps us put the focus back on the turkey and away from the sides , if only for a little.
The only rule in each of these date nights is we do not talk about children, home, or bills. Just us. We reconnect with each other, as adults, lovers, and friends; not parents and homeowners.
Are you watching your turkey? Subscribe and comment and let me know how your turkey is doing.
Until next time, journey on!